FOR IMMEDIATE RELEASE
Date: October 25, 2023
Contact: Jennifer Perry, Compost for Good Cofounder, jperry@adirondack.org, 518.588.2965

Compost Advocates Present Workshops on Food Waste Reduction


Free presentations to be held in Lake Placid and Plattsburgh
LAKE PLACID, N.Y. — Three regional groups are partnering to offer free workshops for businesses, community members, institutions, municipalities and compost professionals who are interested in reducing the amount of food waste that goes to landfills. Participants will learn how to reduce waste at its source and how to compost, recycle and donate food for the benefit of their community and local economy. 
Compost for Good — a regional composting initiative that is supported by the Adirondack North Country Association (ANCA) and AdkAction — is partnering with the Clinton County Health Department and the Center for EcoTechnology to offer the free workshops. The one-hour sessions will take place at the Lake Placid Pub & Brewery in Lake Placid on Monday, October 30 and St. Joseph's Community Outreach Center in Plattsburgh on Thursday, November 2. Both events will begin at 5:30 p.m. and will be followed by networking over light refreshments. The workshops are open to all who wish to gain insights, best practices and resources to build a more sustainable future for the North Country.
"Research shows that approximately 40% of the food produced in the United States goes uneaten," said Compost for Good Cofounder and ANCA Organics Recycling Coordinator Jennifer Perry. "Our goal with these workshops is to empower individuals to be a part of the food waste solution in tangible ways. By better managing food waste locally, we can save money, support local business and tackle bigger challenges like climate change and food insecurity." 
The in-person workshops will begin with a presentation about reducing and preventing food waste at its source and practical strategies to utilize wasted food and organic materials, including composting, recycling and donating. Participants will learn how these methods can benefit North Country businesses and communities and how they can personally contribute to food waste reduction efforts. 
Lake Placid Pub & Brewery will provide a short presentation on the restaurant and brewery's experience with organics recycling over the past 25 years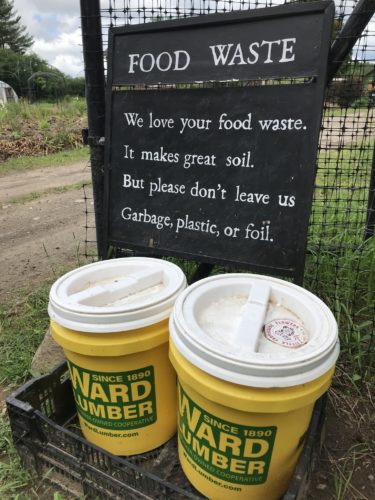 and their unique strategy to identify outlets for spent brewers grain. 
St. Joseph's Outreach Center is the site of the first food choice pantry in Clinton County, where families can choose for themselves what products they receive. The Center provides upwards of 300 meals per week, all prepared by volunteers. The workshop will be followed by a tour of the pantry.
Attendees will also have the opportunity to network with fellow businesses, community members, compost site operators and haulers, institutions, and municipal personnel. Representatives from Casella Waste Systems, River Valley Regeneratives and Blue Line Compost will be available to offer information and answer questions. The event will also include a raffle of locally produced compost. 
The workshops will take place Monday, October 30, 2023, 5:30-7:00 p.m. at the Lake Placid Pub & Brewery, 813 Mirror Lake Dr, Lake Placid, N.Y. and Thursday, November 2, 2023 at 5:30-7:00 p.m. at St. Joseph's Community Outreach Center, 1349 Military Turnpike, Plattsburgh, N.Y. 
Registration is open at https://www.tfaforms.com/5080491. Questions may be directed to Jennifer Perry at jperry@adirondack.org. 
Photo caption: Bins outside Sugar House Creamery in Upper Jay, N.Y. collect food waste for composting.
###


ANCA is an independent, nonprofit corporation with a transformational approach to building prosperity across northern New York. Using innovative strategies for food systems, clean energy, small businesses, and equity and inclusion, ANCA delivers targeted interventions that create and sustain wealth and value in local communities. 
AdkAction is a member-supported nonprofit organization whose mission is to create projects that address unmet needs, promote vibrant communities, and preserve the natural beauty of the Adirondacks for all.
The Center for EcoTechnology innovates, implements, and scales the environmental solutions that communities need to thrive. Through Rethink Food Waste NY we provide free assistance to businesses across the state to support the development of a vibrant marketplace to divert wasted food from New York's commercial and institutional sectors.  
Compost for Good envisions a world in which humans positively impact the earth and its communities by valuing organic waste as a resource. Co-founders John, Jen, and Katie are passionate about organics recycling on the community scale. Compost for Good is a project of AdkAction and ANCA and a collaborator with many. 
The Clinton County Health Department (CCHD) is a full-service, PHAB accredited rural county health department. Through CCDH Eat Smart, Waste Less program, we provide technical assistance to organizations who are interested in reducing the amount of food that they waste, donating excess edible food and recycling wasted food.