About ANCA
ANCA is an independent, nonprofit corporation with a transformational approach to building prosperity across northern New York. Using innovative strategies for food systems, clean energy, small businesses, and equity and inclusion, ANCA delivers targeted interventions that create and sustain wealth and value in local communities.
Established in 1955, ANCA has grown in size, reach and impact to become a trusted leader and collaborative partner for community members who are working to build a strong, resilient and equitable economy in the Adirondack North Country.
Where We Work
The Adirondack North Country region is one of New York State's most rural and dramatically beautiful landscapes.
ANCA's region encompasses 38 percent of the geography of the state and is home to 1.26 million people living in 255 small towns and 14 small cities. This northernmost part of the state benefits the whole Northeast as a renewable energy exporter: over 95 percent of the electricity generated in the region is from renewable sources; as a major food producer, with agricultural products accounting for close to $1 billion in market value annually; and its long-term globally recognized success in sustaining wild places and rural quality of life in an increasingly urbanized world.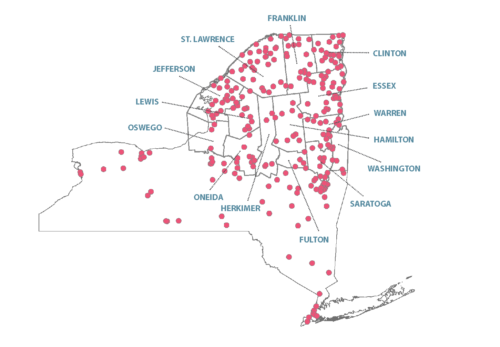 Although largely rural, the Adirondack North Country lies within a day's drive of 90 million people, and sees an estimated 9 million visitors each year, coming from New York City, New England and Canadian cities.
ANCA's 14-county region includes:
Clinton
Essex
Franklin
Fulton
Hamilton
Herkimer
Jefferson
Lewis
St. Lawrence
Saratoga
Oneida
Oswego
Warren
Washington
How We Work
Get people talking: We convene wide and diverse interests, develop partnerships and work with broad groups of stakeholders to drive systems change in the communities and sectors in which we work.
Jumpstart new ideas: We develop effective strategies for rural places, pressure test, course correct and then create tools for scale. We replicate and adapt high-impact ideas from other rural areas.
Dig deep and measure: We test and measure the impacts of our programs.
Spread skills: We work with emerging leaders in communities across the region to build capacity, set up centers of innovation and create the tools to share resources.
Find and leverage resources: We bring together partners and secure private and public resources to drive results.