Center for Businesses in Transition
What is the Center for Businesses in Transition?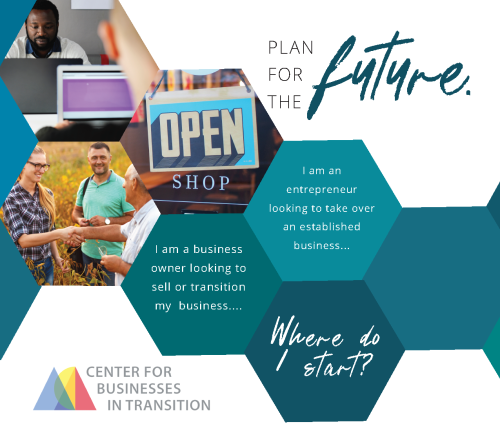 The Adirondack North Country Center for Businesses in Transition (CBIT) addresses the loss of area businesses by providing matchmaking services with potential buyers, access to planning tools and connection with existing services.
CBIT is a dynamic partnership between regional organizations and individuals invested in the retention of local businesses and the future of our communities. The goal is to help owners sell their businesses on the open market, complete intergenerational family transitions or convert to an employee-owned or cooperative model.
Who we serve:
If you are a business owner looking to retire or transfer ownership and you need assistance:
• Navigating available resources
• Finding suitable successors
• Accessing capital
Or if you are an aspiring entrepreneur looking to:
• Purchase an existing business
• Start on a new career path leading to business ownership
• Find out more about employee ownership models and opportunities
We can help connect you with the tools, resources, opportunities and professionals to help you reach your goals.
Please visit ownanorthcountrybusiness.com for more information.
Where is CBIT located?
Although we call it a Center, it is not housed in one location. CBIT is staffed with a full-time coordinator at ANCA's central office & part-time outreach liaisons throughout the region dedicated to increasing the number of successful transitions.
Community Outreach Liaisons are on the road, using technology & collaborating with other organizations to bring assistance to communities across northern NY.  These individuals have been chosen for their understanding of area business and involvement in their communities. They share co-working space with chambers & economic development agencies throughout the region; ensuring the sharing of resources, information & objectives. The Center's community liaisons include the following regional representatives:

2023 Community Liaisons
• Franklin County Economic Development Corp., Russ Kinyon
• Hamilton County Economic Development, Christy Wilt and Rachelle Martz
• Lewis County Economic Development, Jenna Kraeger
• St. Lawrence County Chamber of Commerce, Ben Dixon and Laura Pearson
• Saranac Lake Area Chamber of Commerce, Rachel Karp
• Ticonderoga Area Chamber of Commerce, Matthew Courtright and Erin Mullen
• Greater Watertown-North Country Chamber of Commerce, Kayla Perry

2023 Lead Partners:
• Adirondack Economic Development Corp. (AEDC), Jessica Spiegel
• Adirondack Park Agency Economic Services, Dan Kelleher
• Essex County Industrial Development Agency, Carol Calabrese
• SUNY Canton SBDC at Clinton Community College
Visit the CBIT website at ownanorthcountrybusiness.com for more information, tools and resources, businesses for sale, educational and networking events and more. Contact us at transitions@adirondack.org or (518) 891-6200.
CBIT was established by ANCA in 2018 with grant funding from the Northern Regional Border Commission and is currently partially funded by a grant from the United States Department of Agriculture's Rural Community Development Initiative.
For more information, contact transitions@adirondack.org or:
Danielle Delaini, Entrepreneurial Program Director
ddelaini@adirondack.org
518-891-6200