Rural Americans are the future of the clean energy economy — policymakers must catch up
By guest contributor Chitra Kumar, Senior Fellow with Aspen Institute's Community Strategies Group and Thrive Rural
Published with permission of the author and The Hill.
Rural communities are integral to our nation's economy, culture, history, and ecological health — and our future. Yet, our public policies often either treat rural America as an afterthought or make sweeping assumptions about rural people's values, particularly when it comes to environmental sustainability. Depressingly, we are already seeing this dynamic play out in Texas following the power grid's recent failure to cope with unexpectedly cold weather. Certain politicians have rushed to falsely blame renewable energy for the outages, presumably on the assumption that such attacks will resonate with Texan voters who prize their state's culture of rugged self-reliance.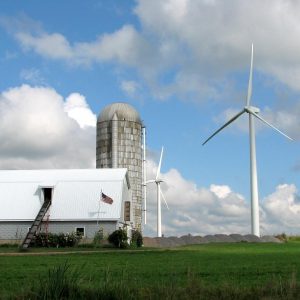 Recent extreme conditions in the South are just one example of how climate shifts are exacerbating the many disproportionate burdens that rural places have been experiencing — from the effects on agriculture, forestry, and other economic sectors important to their thriving. Indeed, changing temperatures and natural disasters are destabilizing rural communities' infrastructure, livelihoods and quality of life just as predicted in the federal government's 2014 National Climate Assessment.

These political fault lines showing up in Texas are emblematic of attitudes playing out across the U.S. Yet, if you ask rural leaders faced with the high cost of energy, water, and internet, alongside shrinking tax bases, more and more are open to alternatives. Agriculture trade associations and rural development coalitions alike supported action on climate change even as the Trump administration pulled out of the Paris Climate Accords in 2017.

Thankfully, since taking office, President Biden has set the wheels in motion to partner with rural communities and social justice advocates on the dual problems of climate change and structural inequity by signing an executive order on Tackling the Climate Crisis at Home and Abroad. The order highlights the carbon sequestration potential of rural places and the importance of working closely with hard-working farmers, ranchers, and forest landowners, as well as bringing jobs back to places that have suffered from global economic shifts and extractive, polluting practices. The order also lays out steps the federal government can take starting now to undo economic and social inequities in low-income rural and urban communities, communities of color and Native communities.

Building a broader base of support for climate mitigation and adaption won't come easy, based on what we're seeing in Texas, but the Biden climate order is a good start. Consider that 86 percent of persistent poverty communities across the nation are in rural areas and many are majority people of color. Rural America makes for an extraordinary opportunity to fulfill the administration's campaign promise to address structural disadvantages. What's more, the Yale Project on Climate Change Communication highlights that people of color are more supportive of climate change action than White Americans. But how urban-centered policymakers implement their climate goals is critically important. Rural stakeholders, like communities of color, are dubious from their past experiences with public policies over many decades that have resulted in increased instability — including policies on trade, corporate consolidation, and technology development, to name a few.

The good news is that a host of place-rooted rural leaders have real ideas for durable systemic change. Nils Christoffersen at Wallowa Resources, has helped deploy innovative small-scale renewable energy microgrid technology that allows farmers, ranchers, small businesses, school districts and municipalities in Eastern Oregon to control their own energy supply, reduce operating costs, and create new sources of revenue in places hard-hit by the decline of the forest products industry. Rural innovator Ajulo E. Othow, Esq, founder and CEO of EnerWealth Solutions is using clean energy to directly address racial justice. Othow's distributed solar and energy storage cooperative in the rural Southeast intentionally focuses on micro (1 MW) installations and shares profits with small and minority landowners (equaling on average about seven times the return on traditional crops).

While microgrids are known for climate mitigation and resiliency potential, particularly in economically distressed communities, efforts to implement them broadly have stumbled. Imagine if, as a part of the administration's commitment to climate and rural development, national policies incentivized the right-sized application of microgrids in rural communities all over the U.S. When a larger grid fails, as happened in Texas, lives could even be saved because communities would have had the option to maintain their own backups. And, the cost of electricity wouldn't need to bankrupt households that are least able to pay. As it is, households with lower incomes can pay as much as 30 percent of their income on energy costs. To get to carbon-neutral, the U.S. needs to embrace rural places and Native nations as ideal proving ground for newer technology because they have access to ample land to mitigate their own carbon footprint with on-site renewable energy; and microgrids are often more suitable in remote areas and small towns than more populous cities.

Supporting these historically under-appreciated rural leaders and doers who are tackling structural challenges like limited access to capital, inadequate infrastructure, and extractive economic practices should be at the heart of the administration's goals around climate justice. Even better, these ideas are entirely compatible with the Justice40 Initiative, which calls for key White House leaders to jointly publish recommendations towards meeting a goal that 40 percent of the overall benefits of certain federal investments flow to disadvantaged communities.

We have a lot to do quickly to turn around a pandemic-crippled economy, address structural racism, and curb environmental disaster. Decision-makers in Washington who are already shifting the policy landscape need to center their work around the voices of leaders from across the diverse cross-section of rural America. It's time to reconsider dated stereotypes regarding which communities are leading the environmental movement and start imagining what could be accomplished if our policymakers tap into the ingenuity of rural Americans surviving on the front lines of climate catastrophe.
Chitra Kumar is a Senior Fellow with Aspen Institute's Community Strategies Group and Thrive Rural.