My attention, of late, has fixed on a tagline created to promote ANCA's Clean Energy Economy Conference. It's a pithy phrase that has both rhetorical spirit and visual appeal: "POWER – owning our energy future." A call to action conveying optimism and collective possibility. Nothing subtle. That is, until you start to unpeel it.
ANCA's purpose is to advance a New Economy in the Adirondack North Country that builds community capital, strengthens local economies and safeguards the natural ecology of our region. In this respect, POWER plays on the inter-relationship between local decision-making (empowerment) and the acquisition or generation of electrical energy. It is needle and thread. A reliable, cost-effective supply of electricity is prerequisite to meeting basic human needs and operations as well as our capacity to withstand/recover from disturbances— whether they are natural or manmade. We construct more resilient communities through acts of local governance that further our energy security. POWER speaks to this understanding.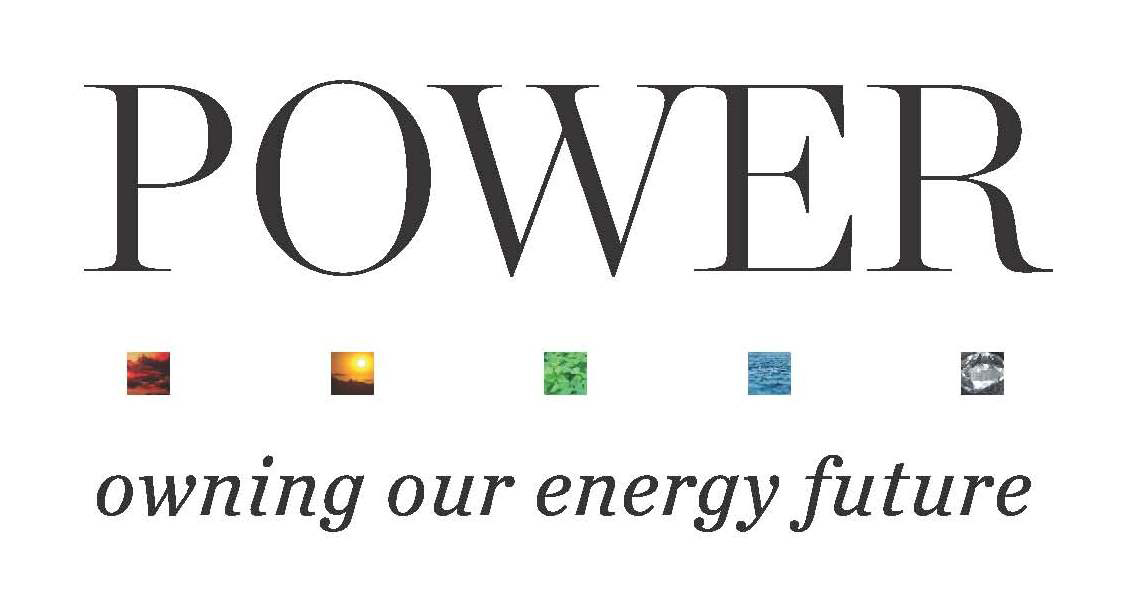 It's in the "owning our energy future" that marketing and meaning become more amalgam and, for me, more compelling. Here, a concept of benefit is implied; one that associates POWER with a shared proprietorship and, in turn, community resilience with cooperative action—both attributes of the New Economy. Less clear, however, are the actual pathways and processes available to secure this energy future—let alone a description of the latter for towns and villages in our region. While this may all seem like much ado about nothing, I would argue otherwise.
Rural communities in the Adirondacks are vulnerable to depopulation, decaying infrastructure, high transportation costs, competition with urban markets, environmental events and more. In our seven northernmost counties, there are no less than 54 low income community tracts—13 of which are qualified Federal Opportunity Zones—based on an individual poverty rate of at least 20 percent and median family income less than 80 percent of the area median. As household income levels decrease the gap between affordable home energy costs and actual energy bills (home energy affordability gap) widens and the ratio of energy spending-to-income (energy burden) increases. It follows that a high proportion of North Country families live in a state of fuel poverty with attendant consequences for human health and welfare.
How might communities in our region claim ownership of affordable, long-term supplies of energy to benefit their residents and businesses? And how might energy procurement at the local level complement the development of a New Economy in the North Country? Several possibilities come to mind: 1) municipal electrical utilities; 2) electrical cooperatives; and 3) investments in local renewable energy, particularly solar.
Municipal electric utilities (MEUs) are owned by the jurisdictions they serve and operate in the public interest. There are currently 12 MEUs in ANCA's 14 county region, providing residents and businesses access to affordable electricity through NYPA and NYMPA procurements. Recent cost data indicates that residential electrical rates charged by these facilities are ~25-60% lower than those charged by private competitors in the region and ~50-75% lower than the New York average rate (currently 17.62¢/kWh). Unfortunately, a cap on NYPA's electricity allotment precludes further development of MEUs in the region.
Cooperative electrical utilities (CEUs) are not-for-profit organizations owned by the individual members for the purpose of collective purchasing and bulk discount. Each member of the cooperative is a contributor and has a voice in how their CEU operates. In turn, the CEU must reallocate excess operating revenues to infrastructure and rate stabilization or return revenues to members in the form of capital credits. The result is a democratic process that favors local priorities and goals. That said, not all participants in a CEU are required to be members. While CEU's differ from MEU's in their form of ownership (individual vs. municipal, respectfully), both utilities exist to serve their surrounding communities. Today there are > 900 CEU's in 47 states supplying electricity to almost three quarters of our land area. Yet, to date, none exist in the Adirondack North County.
Returning to our New Economy principles of local capital, economy and the environment. How do MEUs and CEUs stack up across these categories? Both utility structures favor:  1) local control, governance and capital investment; 2) least-cost reliable service; 3) rapid response to disruptions and emergencies; 4) contribution to local economies; and 5) operational transparency. Nonetheless, they remain exposed to variations in wholesale price-setting unless generating electricity onsite, which is not the case in our region. MUE's in the North Country purchase most of their electricity from NYPA allotments associated with the St. Lawrence-Franklin D Roosevelt Power Project and the Niagara Power Project. Hydroelectric dams such as these produce energy that is renewable—but not without environmental impact. And the point of electricity generation and off-take are often distant.
This begs the question, are investments in renewable energy consistent with the New Economy when they are imported from afar? I think the question is open to argument given the high electrical transmission losses incurred. Better to procure renewable power locally. And this raises an additional point of consideration. Electricity generated by wind accounts for a small percentage of the power (e.g., <1%) purchased by MEU's in the North Country, despite the fact that we host (but don't own) several utility scale wind farms; much of this supply is exported downstate and beyond. Similar rural-to-urban exports accompany large scale projects in the solar industry. Suffice to say, the fit between our electricity marketplace and the New Economy concept is less than ideal.
POWER – owning our energy future. It's easy to recite but harder to untangle and apply. But not impossible. In a previous post titled, "Growing the New Economy," ANCA's Executive Director, Kate Fish, hinted at the potential for solar—particularly community solar—to provide an affordable, renewable source of energy that can be locally produced and owned. We certainly have the land area for it. And we at ANCA are developing ideas and options to assist such progress. In fact, we recently convened a workshop and forum for municipal leaders seeking to update local policies and planning for commercial solar projects as well as review and/or develop proposals for solar farms in their communities. I'll discuss some of the highlights and outcomes of this event in my next post.
For Reference:
Municipal electrical utilities in the Adirondack North Country region: Village of Rouses Point, City of Plattsburgh, Village of Tupper Lake, Town of Massena, Village of Lake Placid, Village of Booneville, Village of Illion, Village of Mohawk, Village of Philadelphia, Village of Theresa, Village of Frankfort, City of Sherill