We are inspired. And we are grateful.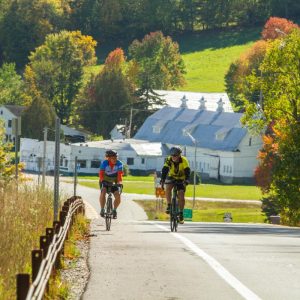 On September 29, over 200 people gathered together at Tucker Farms, less than 10 miles down the road from Saranac Lake, in the heart of the Adirondack North Country. Golden corn fields, historic barns and a panorama of mountain peaks set the stage for a shared meal between new friends and old — visitors and locals who came here to enjoy a day of cycling, visiting local farms and learning about what work and life is like for a variety of Adirondack farmers.
We want to express our gratitude to all those who joined us for ANCA's fourth annual Bike the Barns. It really was the best year yet. A wide diversity of farms. Fascinating historical and cultural exhibits. Delicious local food and beer created with locally sourced, farm fresh ingredients by established food providers and budding entrepreneurs.
Energized by the autumn sun, stunning foliage, toe-tapping music and hearty meal, all who gathered for the finish line celebration could feel it. We were thankful and inspired.
People care deeply about our region's farms and the farmers who do the hard work to produce healthy, nutritious food and other farm products. They are stewards who care for their land and their animals with a holistic perspective, where sustainability, justice and ethics are priorities.
But our farmers face real challenges — economic hurdles that threaten their livelihoods and their bottom lines. Beyond the cold climate and unpredictable growing conditions, these farmers face financial barriers that are unique to small farms operating in remote places and rural economies. At this year's Bike the Barns event, inspired by the farmers who showed us their operations and shared their stories, two of our riders spoke to us about these barriers and ideas of how we can help our local farmers overcome them —  to help farms grow.
Together, we came up with one way we can help.
These generous new donors have pledged to give $100,000 in funds that will go directly to farmers and food entrepreneurs to help them purchase needed equipment and expand their distribution networks. These capital investments can have a big impact on a farm's bottom line, tipping the scale to support stronger, more resilient farm businesses.
These anonymous donors extend this unique opportunity to YOU through the Local Farm Challenge. They challenge our community to match their $100,000 donation to support ANCA's mission and advance our work with the region's food systems, clean energy sector and entrepreneurial economy.
Our goal for the Local Farm Challenge is to raise $100,000 by December 31, 2019. We hope you'll join this amazing effort to help local farms grow.
Be inspired. Share our gratitude. Rise to the challenge.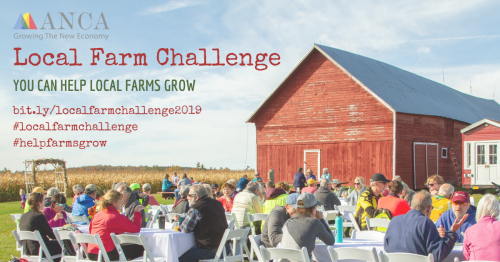 Photos:
Top: Bike the Barns riders pass by Donnelly's Farm and ice cream stand as they climb Harrietstown Hill outside of Saranac Lake, NY.
Middle: The Bike the Barns finish line meal was provided by ADK Noodle Co. and Kate Mountain Farm, in partnership with Paul Smith's College.
Bottom and header: 2019 Bike the Barns participants enjoy a local food meal at Tucker Farms to wrap up the fourth annual event.