By ANCA Energy Circuit Riders Shawnea Hull and Carlie Leary
Incorporating sustainable practices into your holiday season doesn't have to be difficult and can be a wonderful opportunity to create new traditions, start meaningful conversations, and reduce your impact on the environment. Below we offer some tips on how to cut down your energy use and expenses and reduce waste during the holidays.
Energy Use
Switch to LED this holiday season.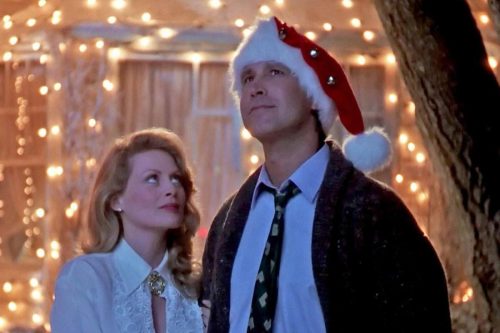 On average, Americans use around 3.5 billion kWhs of electricity to light their holiday lights throughout the month of December. Using standard equipment (one 20-ft string of 100 incandescent bulbs using 40W of electricity x 9 such strings on average to light a Christmas tree and outdoor lights), for 6 hours a day means the typical household in the U.S. will use around 65 kWh of electricity in December — adding up to around $645 million spent by Americans this month running holiday lights.
One solution? LED lights. LEDs may have a higher upfront cost, but they ultimately provide savings on your electric bill and reduce your GHG emissions. When you use  LED bulbs for all your holiday lights, the amount of power you use drops by around 75%. Whether you strive for Clark Griswold-inspired lighting or a more modest holiday display, these holiday light calculators show you   how much switching to LED lights can save you!
The Clark Griswold: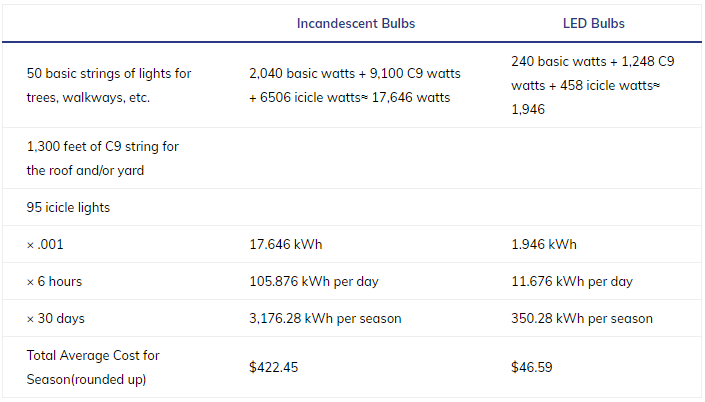 Typical Lighting Display: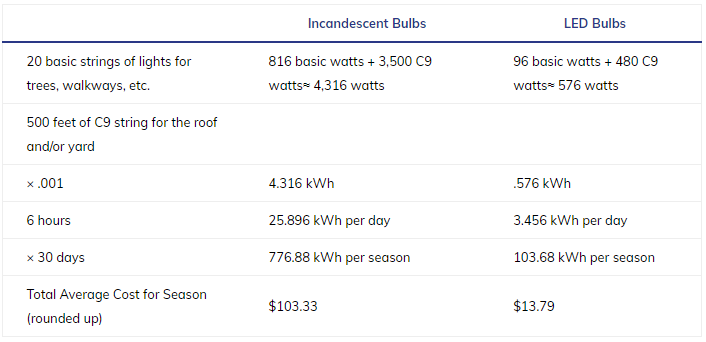 Gift Giving 
Help reduce your footprint this holiday season with creative gift giving. Here are some DIY and low-waste gift ideas and holiday tips to help rethink your gift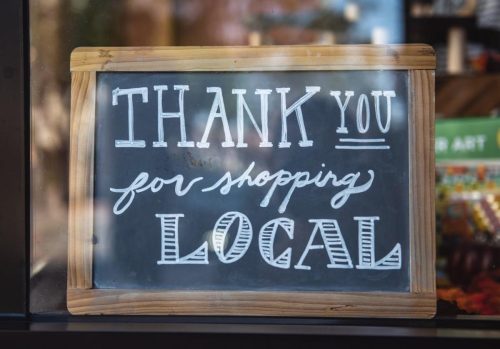 giving strategy:
Reduce: Experiential gifts (experiences) can include things like gifts cards, an art class, local cooking class, musical events, self-care packages, and theater tickets. You can give a solo-experience or buy multiple tickets so that loved ones can enjoy quality time together.
Reuse: Consignment and thrift shops have awesome and rare pre-loved gifts. A vintage jacket or antique collectible is perfect for your unique loved ones.
DIY: Edible gifts such as cookies, sauces, jams, oils, and meal mixes allow you to show off your culinary skills while giving a tasty treat. Homemade decorations or ornaments are a creative way to express yourself while adding a personal touch to presents.
Buy local: Buying local supports our economy while lowering GHG emissions through reduced travel.
Reducing Waste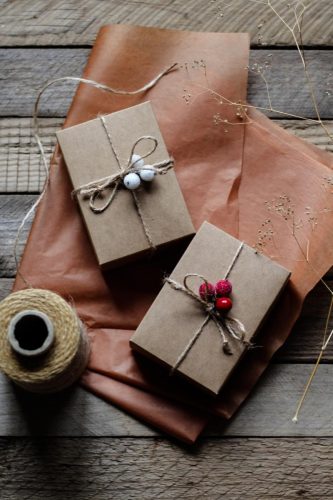 If you do decide to switch to LED lights for the holidays, you can responsibly dispose of your old lights by bringing them to a hardware store for recycling. Some stores will even offer discounts towards the purchase of LEDs with a trade in.
Opening presents is often a chaotic mess that leaves parents rushing to clean up wrapping paper, boxes and bows. Prepare ahead by following these steps to ensure that unwrapping presents can be as sustainable as possible by avoiding sending unnecessary materials to the landfill.
Not all wrapping paper is recyclable. Before you begin wrapping, choose wrapping paper that can be recycled, or even better, choose wrapping paper that can be reused, such as a cloth wrap reusable jar, or tote bag. You can also upcycle brown paper bags and decorate them with holiday drawings. Check out this video on how to do a Furoshiki Cloth Gift wrap.
Make a fun game of cleaning up the mess. Provide several bins for sorting and cleaning up: one for garbage, one for recyclable materials, one for items that can be reused or upcycled, and one for unknown items. This can lead to meaningful conversations about what we use and a fun competition to see who can clean up the quickest and in the right way. Make sure to check with your local recycling facility to see which materials can be recycled and how they need to be separated. Use this link to check different recycling options in your area.

Black Gold: The Gift of Compost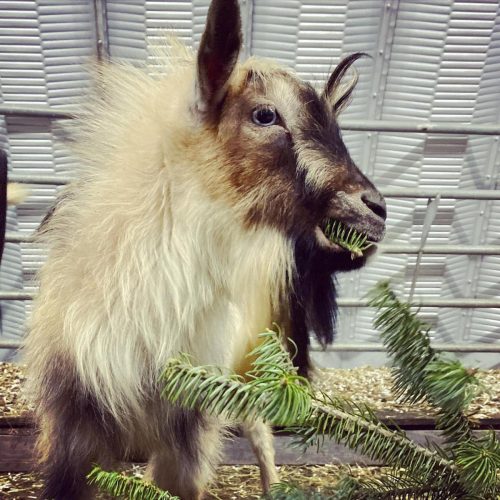 When organic matter (like your Christmas tree) breaks down in a landfill, it gives off a potent greenhouse gas called methane. To avoid this, think about composting your tree this holiday season. This reduces GHG emissions while also creating healthy soils that can be used for growing next spring. Contact ANCA Energy Circuit Rider and Organics Recycling Coordinator Jennifer Perry at jperry@adirondack.org to find a community composter in or near your community.
Did you know goats LOVE Christmas trees? Come watch the fun and friendly goats of The Cook Farm gobble up your un-decorated tree on Sunday, December 30, 2022 at the farm in Owls Head, N.Y. The goats will recycle your tree, and your family can have a fun afternoon meeting the animals and drinking hot cocoa! Learn more on the Cook Farm website at www.cookfarmny.com/visit-our-farm/.
Photo courtesy of The Cook Farm: a Cook Farm goat chews on the family's Christmas tree 
Top photo of Griswolds courtesy of Hughes Entertainment