I'm on my trusty touring bike, hauling my 5-year-old in the Burly buggy. She'd rather be pedaling her big-girl bike, but she'll have to be content admiring the view from the trailer. My husband and son are up ahead pedaling [almost] in tandem with their bicycle/tag-along combo. Grandpop is joining us for the day, and Grandma with her new recumbent bike. We are ready to ride!
I don't know what you're doing on September 24, but we are going to move this outfit over to Mace Chasm Farm in Keeseville, NY for Bike the Barns. Inspired by agritourism cycling traditions in other parts of the country, the first annual Bike the Barns in the Adirondacks is a day-long road cycling tour celebrating the vibrant agricultural scene of New York's Champlain Valley. This ride is not the same as the longer international bike trips we used to do before kids. It's a more relaxed day with a focus on the surrounding countryside and communities, not the miles on the odometer.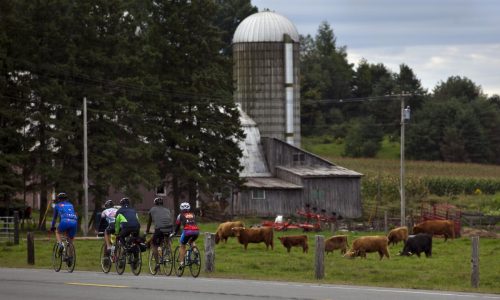 Photo by L.E. Basko courtesy of Cycle Adirondacks
My in-laws could certainly handle the longer 35- or 50-mile routes, but we're opting for the 10-mile family fun ride. Whichever route we choose, we'll have the opportunity to stop at participating farms, meet the farmers, purchase some farm-fresh snacks and be part of a fun and meaningful experience.
Fueled with some morning brew from Origin Coffee, equipped with a replacement tube from High Peaks Cyclery. we'll hit the road — a quiet stretch of pavement that winds through field and forest. A canopy of autumn leaves opens up to the sweeping vistas of the Champlain Valley, the Green Mountains of Vermont and the Adirondack Mountains rising in the distance on either side.
Hopefully we don't have a blowout during our family ride, but if we do, Viking Ski N' Cycle will be there with the sag wagon and a mechanic to get us back on the road.
First stop will be Fledging Crow Vegetables where we can stretch our legs and sample some of the produce that makes this farm a favorite in the region's CSA and farmer's market scene. Refreshed with our wholesome snack, and if the kids are up for it, we'll head over to North Country Creamery for a taste of amazing farmstead cheeses, creamline yogurt, and raw milk. And… rumor has it the cows LOVE to eat the apples from the trees right next to the pasture. Watch out for their choppers!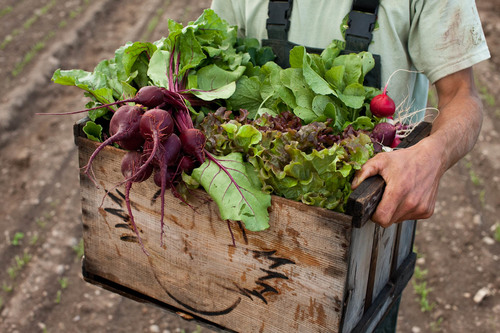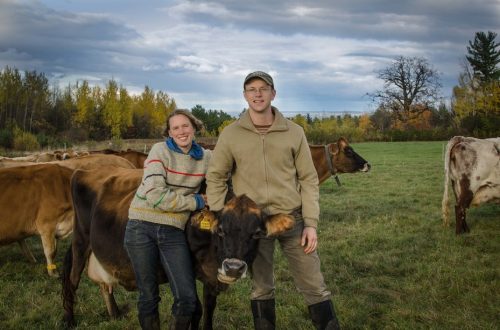 Photos courtesy of Fledging Crow Vegetables and North Country Creamery
If we had chosen the longer routes, we could experience some other participating farms in the Champlain Valley. Thanks in part to the efforts of the Open Space Institute and the Klipper Family Fund for the Champlain Valley to preserve land and support local entrepreneurial farmers, this area is experiencing a resurgence in the number of small farms. Depending on which route you choose, you'll be able to stop at some of these farms.
Ben Wever Farm in Willsboro is a multi-generational family farm that produces fresh fruits and veggies, eggs, and some of the OMG best bacon around. With a cluck-cluck here and a baa-baa there, they produce a little bit of everything.
Stop at Echo Farm in Essex, and try out your yodeling skills. Nestled between Sprig and Whipple Mountains, it's called Echo Farm for a reason. Maybe, just maybe, you can feed a baby goat. Check out the farm's Farmstead Catering menu while you're there.
Then there's Essex Farm, where it all began with A Dirty Life. Pioneers in the sustainable farming revolution in NY's Champlain Valley, Essex Farm is a must-see stop along the bike routes. Offering a diversified, full-diet CSA and farm store, Essex Farm is a fixture in the community of Essex and beyond.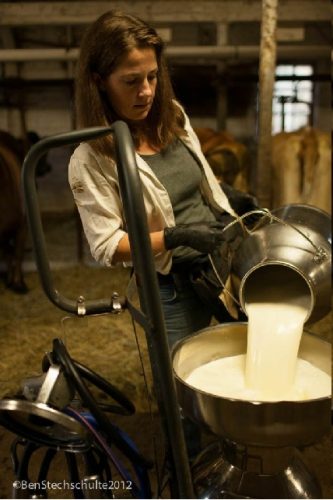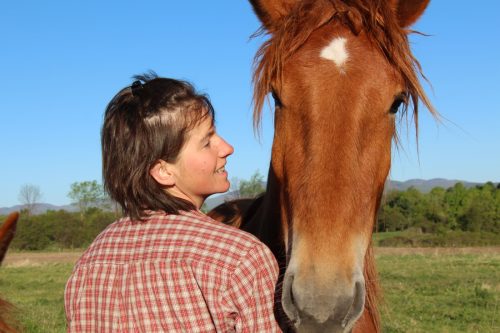 Photos courtesy of Essex Farm and Reber Rock Farm 
At Reber Rock Farm you can watch draft horses push through the toughest work and you can try mouth-watering, belly-rubbing meats, veggies, herbs, mushrooms, and pickles! Reber Rock is the lunch stop along the longer routes.
During Bike the Barns, your pace is the right pace. It's not a race. Take your time, visit with farmers, and share your experiences with the local community. This is your chance to see this slice of Northern New York from a slow and truly stunning vantagepoint.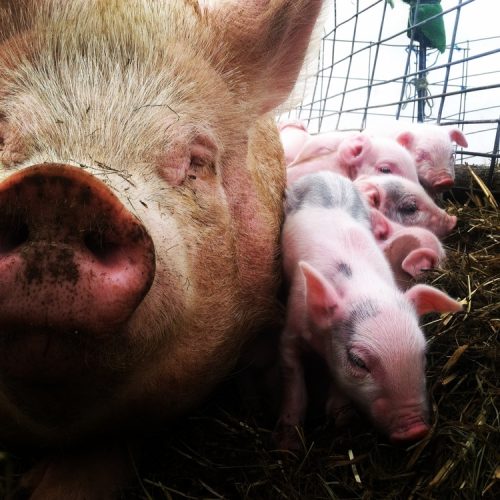 Photo courtesy of Mace Chasm Farm
Finally, back to Mace Chasm Farm for high fives all around – and what a great place to end the trip. Expert butchers and crafters of fine meat products, these folks also operate a food truck with a one-of-a-kind menu and farm-fresh ingredients. At day's end, we'll celebrate with local music, tasty brews from Ausable Brewing Company, crisp wines from Hid-In-Pines Vineyards, and various food options from local food trucks.
How lucky we are to have these open spaces, these farms, these hardworking farmers in our communities! We'll shake out our sore legs, dance to the music, and watch the sun go down in the valley. Good food and drink in our bellies. New friends. New stories. Bike the Barns 2016.
To register or for more information about Bike the Barns, go to www.adirondack.org/bikethebarns.
Date: Saturday, September 24
Start times for the ride: 9:00 a.m. for the 50-mile, 10:00 a.m. for the 35-mile, 12:30 p.m. for the Family Fun Ride
Location: Start and finish at Mace Chasm Farm in Keeseville, NY
Bike the Barns is hosted by the Adirondack North Country Association (ANCA), in partnership with Cycle Adirondacks and Great Range. Proceeds from Bike the Barns will go to FarmShare, a fund that supports initiatives that promote our region's farms and their products, including subsidizing CSA shares for low-income households.