It's hard to believe it's mid-December at the Madrid-Waddington Central School.  As snow drifts into the exterior courtyard, lush green plants fill sturdy metal racks in the school's garden room. Eight six-foot tall grow racks boast salad greens and herbs as well as a few experimental strawberry and cucumber plants. Several baby cucumbers dangle from vines and basil seedlings look vibrant against dark organic soil, made entirely of composted material from prior plantings.
The grow racks are the invention of Massena-based farmer and entrepreneur Andy Maslin and his family, who have worked for over 10 years to develop the indoor organic grow rack system, marketed through 2445 Organics. "After so many different designs, this is what worked best," said Quinton Maslin, one of three sons involved in the business. "From the soil mixture, right down to the reds and blues in the lights." The current version of the system, he said, is efficient, effective and highly productive.The Maslins are now sharing this year-round growing system with North Country schools.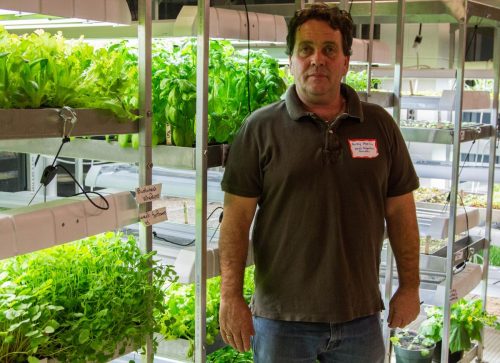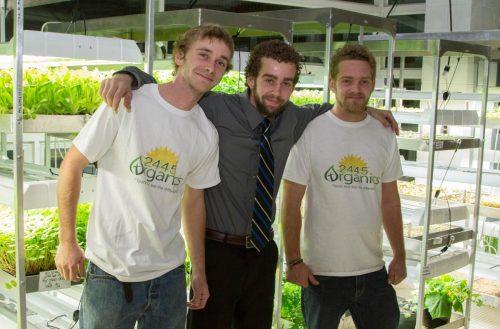 2445 Organics Founder Andy Maslin and his three sons and co-owners Zach, Quinton and Andy Jr. 
Assemblywoman Addie Russell, ANCA's Farm to School Specialist Alex Merrell and Superintendent Eric Burke were joined by newly elected Assemblyman Billy Jones and over a dozen North Country school representatives at a recent open house to learn about the effort at Madrid-Waddington Central School.
Buffy Gabri, a science teacher at the high school, operates the grow rack system with her plant science students. The garden room is sprinkled with notes for her students detailing tasks for the week. She said the students enjoy this program and the opportunity to engage with the school's food production. The school's salad bar, which is stocked with greens the students harvest themselves, is available in the cafeteria every day. Gabri and her students also produce "green juice" recipes that combine greens and fruit for tasty nutritious drinks. "The kids love it," said Superintendent Eric Burke. "And the beauty of it is students can set this up in their apartments later. It doesn't take up much space."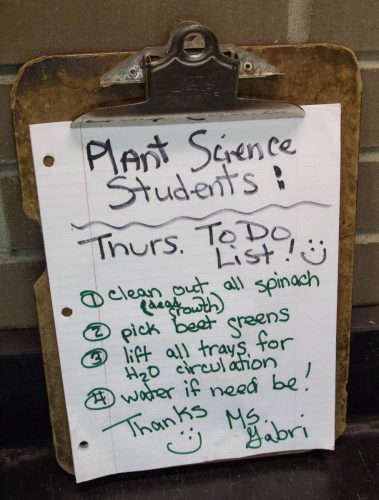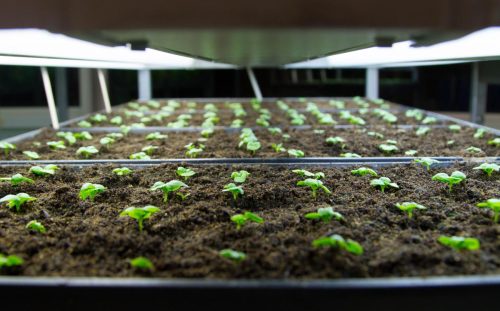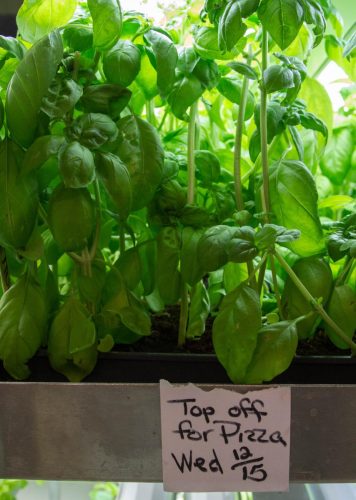 Look what's growing in the Madrid-Waddington School garden room!
Since Fall 2015, school staff have increased the indoor garden from two to the current eight racks; they hope to purchase an additional two racks through Assemblywoman Russell's Drive for 25 Farm to School grant program, administered through ANCA. This pilot program enables K-12 school districts in Jefferson and St. Lawrence Counties to increase the amount of New York State-grown food served in their cafeterias.
Participating schools can buy the 2445 Organics grow racks to supplement other purchased produce. According to Assemblywoman Russell, this investment supports different facets of Farm to School program goals: Beside providing fresh, local and healthful food, an indoor gardening program engages students in the steps involved in putting food on the table.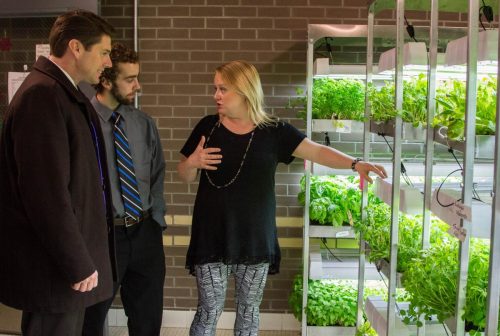 Assemblywoman Addie Russell speaks with Assemblyman Billy Jones and 2445 Organics co-owner Quinton Maslin about the grow racks at Madrid-Waddington Central School.
The  technology is reasonably priced, she said, and can even allow students or entrepreneurs to start their own produce business and scale up as they gain a customer base. The end result is more local food in schools, restaurants and other facilities and more dollars retained by local businesses.
Darius White, School Chef at the Akwesasne Mohawk School in Cornwall, Ontario, is enthusiastic about his school's 2445 Organics grow racks. He said with just eight trays in production, he is able to provide a week's worth of greens for 360 students. "The flavor is amazing," he said, and the health benefits of the raw, nutrient-rich ingredients are important for students and the greater community. He sees this kind of gardening as a powerful tool to engage kids in producing, preparing and consuming fresh vegetables while simultaneously addressing health-related issues like poor nutrition, depression and even alcoholism. "The kids are really drawn into it," he said. "Even shy kids let their guard down and get involved."
We look forward to watching this network of entrepreneurs, school administrators, students and community leaders expand as more communities adopt indoor gardening technologies. Green juice and fresh salad throughout the long North Country winter? Sounds good to us!