Nothing says true love like a year's worth of garbage pickup.
This may end up being my favorite gift this year. The rest are sitting wrapped, tidy and pretty, under the tree.
My garage, on the other hand, is neither tidy nor pretty. It is bursting with trash bags, busted gear and crammed recycling bins — quietly waiting (and waiting) for us to make a trip (or two) to the transfer station. Our cars, in the meantime, are relegated to the cold and snow just outside the garage doors.
When I told my husband I had scheduled our first trash and recycling pickup for Christmas Eve, tears sprung to his eyes. "Really?," he asked.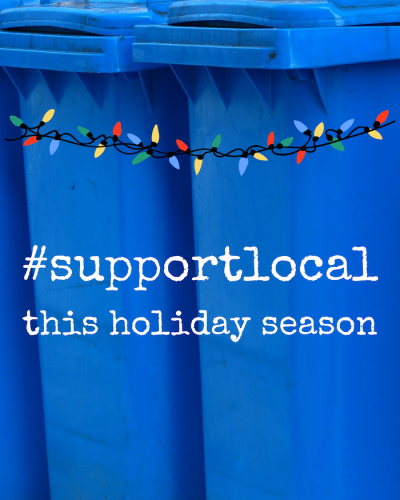 "It's my gift to you," I said. "Because I love you."
This is the kind of gift we both can get behind. Maybe it's our age (gulp) — or our penchant for the practical. Maybe it's because we've been actively de-cluttering (hence, the garage) and don't need so many gadgets and toys in our house.
We know that for our busy household, garbage pickup is a real gift. We also know we can feel good about supporting a local business.
* * * * *
What are local businesses you can't live without? How can you show them your appreciation? It's not too late. There are lots of ways you can support local and support small this holiday season. Here are a few ideas:
Shop local: Make some time to shop on Main Street. You may be surprised by the variety and quality of gifts available in your own community or the town down the road.
Local shopkeepers are invested in their communities and offer personal connection and responsiveness that is hard to get from big box retailers. Local shops curate their inventory to the needs and preferences of their customers and often carry local goods, produced by entrepreneurs who are growing their own businesses.
Small business owners and employees give back to their local communities — by purchasing supplies and services locally, supporting programs for local families, volunteering at neighborhood events, paying local taxes, and more.
If it's hard to find time for a shopping trip, or you just don't feel comfortable in brick-and-mortar stores, many local shops offer call-in or online ordering with convenient mailing or pickup services.
For businesses who were on the fence about e-commerce two years ago, the COVID-19 crisis spurred many to step up their digital marketing game. Some — with training and service support from ANCA, CBIT and partners like Clarkson University's Shipley Center for Innovation and the St. Lawrence County Chamber of Commerce — have significantly improved their e-commerce capacity.
Give your local shops a visit, a call or a click, and see how they can support you with your holiday shopping. They are dedicated to their communities and are happy to help.
Eat local: Whether it's a lunch stop or coffee break during your shopping excursion or a food-related gift, there are a lot of great options to support North Country specialty shops, farms and eateries: restaurant gift certificates, CSA shares and gift baskets — cured meats, farmstead cheeses and cinnamon buns — maple products, chocolate and pickles.
Local brews — both coffee and beer — make great gifts this time of year. And local spirits and wine pair well with any holiday meal.
When planning for meals, there's still time to stock up your pantry, refrigerator and wine rack with local food and drink from farmers markets, farm stores, food hubs or grocers.
Support local: There are thousands of North Country businesses and nonprofits who provide services, entertainment, cultural opportunities, education, community support and more. These groups bring vibrancy, diversity and efficiency to our towns and villages.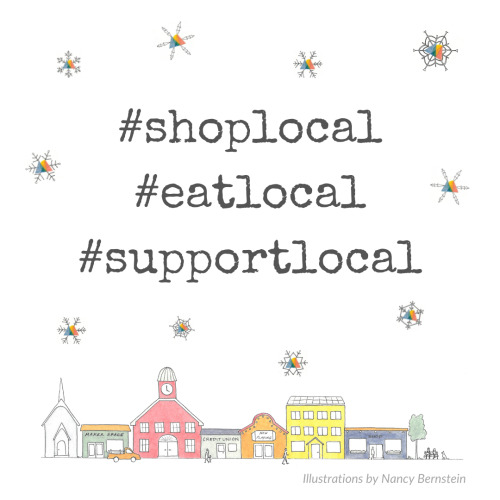 Make a direct purchase or give a subscription or gift certificate to your favorite local business or community organization including:
You may also choose to donate, on behalf of a loved one or yourself, to organizations and charities who are doing good work throughout the region:
School groups, preschools or daycare facilities
Public libraries — like Potsdam Public Library
Health care foundations
Mental health centers
Food pantries — like Watertown Urban Mission
Animal shelters
Other social, civic and faith organizations
With a little creativity, and awareness of what's available in your community, you can come up with countless ways to support local and support small this holiday season.
And if you don't have the means, financially or emotionally, to do a lot of giving this year — that's ok. These are difficult times for many. Know there are people and organizations who are here to help:
Food pantries
Mental health centers
Addiction treatment centers
Churches
Housing assistance organizations
New York State emotional support hotline: 1-844-863-9314
From all of us at ANCA, we wish you a happy, healthy and hopeful holiday season.