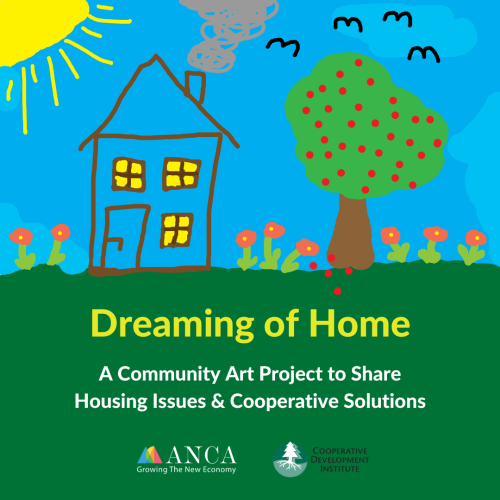 ANCA, in collaboration with the Cooperative Development Institute (CDI) and local arts groups, invites community members to participate in a multi-community art project centered on housing, housing insecurity and cooperative housing solutions for our region.
When is it? This project is ongoing through October, when we will show the art pieces in various Saranac Lake locations (detailed below). Afterward, they will remain in Saranac Lake through November, moving to Lake Placid, Plattsburgh, and Malone over the winter.
How and where can I participate? Participants may create various forms of art expressing housing-related issues they have faced, or looking forward to their hopes for future housing. All opportunities to engage with this project are free and open to the public.
Thank you to the following  local arts and community organizations who have partnered with us to offer a variety of opportunities for artistic expression around housing. Here's how you can participate:
ADK ArtRise: October 23, between 11am-4pm, pop in for some guidance on making a house sculpture from found materials. Or check out the ADK ArtRise website anytime! Submitted house models will be displayed on October 29 and beyond in other communities.
Adirondack Center for Writing: Visit ACW's website to receive weekly housing-related writing prompts for the rest of October. Submissions will be posted on their blog and selected works will be printed for display at ACW's Broadway location and beyond in neighboring communities.
BluSeed Studios and Saranac Lake ArtWorks: BluSeed will host house and housing related art pieces. ArtWorks members will submit related art for the show. Stop by and drop off a piece or check them out!
Historic Saranac Lake: Check out Historic Saranac Lake and ANCA's social media throughout October for some resources about historic buildings and housing from Historic Saranac Lake. Find a list of resources here.
Saranac Lake Free Library: Visit the Library to pick out a featured book about housing, houses, and related topics.
Adirondack Almanack: Watch the online publication for housing-related stories during this project.
ANCA & Cooperative Development Institute: Join in on the conversation about a real cooperative housing development for a donated plot of land in Lake Placid. Local individuals, families and employers interested in learning more about cooperative housing, its benefits and the Lake Placid housing co-op can view a pre-recorded learning session on ANCA's website. There is still time to join the steering committee for the Lake Placid project; the committee's first official meeting will be held on Thursday, October 27 from 7:00 to 8:30 p.m. in Lake Placid. Contact ANCA at housing@adirondack.org for location details and questions.
Learn more at www.adirondack.org/housing or reach out to housing@adirondack.org.