Help Us Grow the New Economy of Tomorrow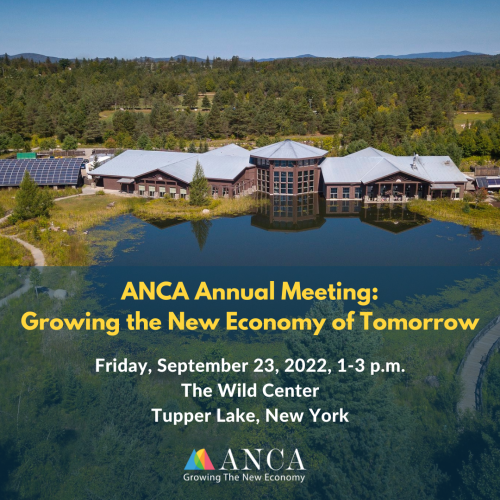 Thanks to all who joined us for ANCA's 2022 Annual Meeting, where we explored the future of the North Country economy with a focus on small businesses, local food systems, clean energy, and diversity, equity & inclusion.
What: ANCA Annual Meeting: Growing the New Economy of Tomorrow
When: Friday, September 23, 2022, 1:00 to 3:00 p.m., with reception to follow
Where: The Wild Center, Tupper Lake, NY
Cost: $25 registration includes meeting, reception & admission to The Wild Center
ANCA is building a New Economy that works for all across northern New York. At our Annual Meeting, we will hear from a series of constituents who will share their vision of an inclusive New Economy and actions we can all take to achieve that reality.
---
Be Inspired by Regional Innovators:
Annual Meeting registration includes opportunities to experience The Wild Center and gather with the ANCA Community:
• Explore the Center, Wild Walk, nature trails, cafeteria and gift shop for the day.
• Engage with dynamic community leaders via talks and multimedia presentations.
• Join Wild Center Executive Director Stephanie Ratcliffe for a tour of the inspiring new "Climate Solutions" exhibit.
• Gather for an outdoor reception featuring light refreshments by ADK Food Hub and craft beverages from Raquette River Brewing and Four Maples Vineyard & Winery.
Don't miss this opportunity to engage in-person with leaders who are making positive change in their communities:
• Dr. Lorenzo Boyd: RENZ Consulting, who works with the Community Policing Initiative
• Mark Luciano: Brookfield Renewable
• Max Nason: Happy Camping RV, Vermontville
• Pete Nelson: Adirondack Diversity Initiative
• Emmett Smith: Northern Power & Light, St. Regis Falls
• Compost for Good Team
And tune in to videos featuring these local innovators:
• Julian Mangano: Della Terra Farm, Castorland
• Chrissie Wais and John Levy: The Belvedere Restaurant & Property, Saranac Lake
• Community Liaisons: Center for Businesses in Transition
Meet Our Guest Speakers: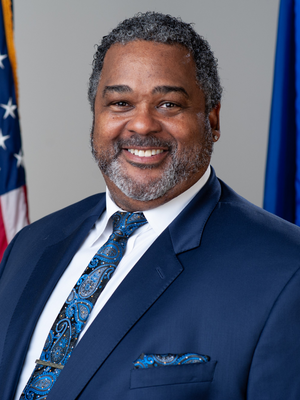 Dr. Lorenzo M. Boyd, is a nationally recognized expert in police-community relations and an authority on urban policing. Dr. Boyd currently serves as the Stewart Professor of Criminal Justice and Community Policing at the University of New Haven (CT). He formerly served as the university's Vice President for Diversity & Inclusion and former Director of the Center forAdvanced Policing. His 14 year service as a deputy sheriff in Boston informs his 20-year career in higher education. He effectively translates research and theory into practice, making him a sought-after consultant, trainer, and speaker for departments and communities across the country.
Through his company RENZ Consulting, LLC, Dr. Boyd conducts professional development training with a central focus on building levels of empathy, lived experience, and cultural competence among police personnel. He works with police leaders around the country to determine training needs and develop interactive professional development sessions that include real-life scenarios and role play.
Dr. Boyd regularly appears on local, regional, national, and international media outlets to discuss policing in the aftermath of high-profile cases. Dr. Boyd is the former president of the Academy of Criminal Justice Science and a life member of National Organization of Black Law Enforcement Executives. He is a published author and dedicated trainer. He earned his Ph.D. from Northeastern University in Sociology with a concentration in Urban Policing. He also holds master's and bachelor's degrees from the University of Massachusetts.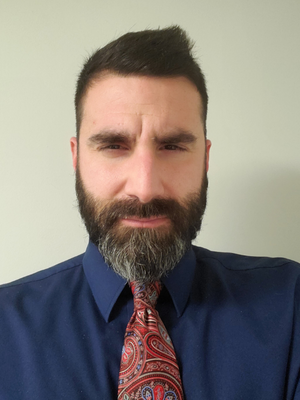 Mark Luciano serves as Stakeholder Relations Manager for Brookfield Renewable for its offices in New York, Minnesota and Massachusetts. Brookfield Renewable is a leading owner, operator and developer of renewable power, delivering innovative renewable power solutions that accelerate the world towards a sustainable, low-carbon future. Brookfield's diversified portfolio of hydropower, wind, solar and storage facilities extends across 34 states, totaling approximately 7,830 megawatts of generating capacity.
Before joining Brookfield, Mark has served as Chief of Staff for Assemblywoman Carrie Woerner, Regional Representative for Congressman Bill Owens, Parks Program Director for Park & Trails New York, and Chief of Staff for Assemblyman Roy McDonald.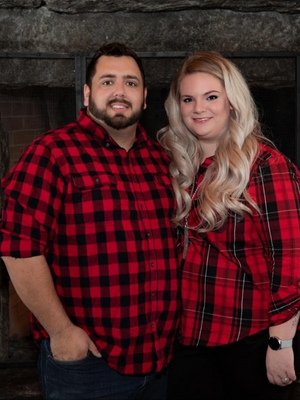 Maxwell Nason, husband and father of 4, has worked in sales for over 10 years. Most of his sales experience has been in the RV industry. Maxwell began his sales career in Nashville, Tennessee where he was employed as a sales representative for Camping World, the largest RV dealer in the Nashville area. Maxwell also has managed projects with Starr Group in the Lake Placid, NY area as a lead project manager. In 2015, Max started his own Wedding DJ Business MX Productions, where he DJ's for some of the area's highest-end weddings. Providing guests with a memorable, fun experience ties right into his passion of helping people find the best trailer for their specific needs. Max is truly a people person. For the last almost 6 years, Maxwell has focused his skills here at Happy Camping RV selling and servicing units. In 2020, Max and Veronica decided to pursue taking over the business, so Hans and Pam could retire. In December 2021, Max and Veronica became the proud new owners of the now, "Happy Camping RV LLC."
Their plan is to always provide customers with the kind, caring, and knowledgeable experiences that they've always been known for, as well as expand the business to be able to offer even more services and improve experiences for all who trust them with their camping needs.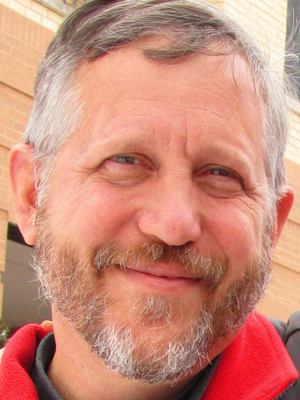 Pete Nelson is a proud Adirondack resident and co-founder of the Adirondack Diversity Initiative. Having formerly worked with law enforcement agencies and prosecutors in investigations, intelligence and progressive policing, Pete is excited to lead ADI's community policing program. Pete has been involved in diversity issues as an activist and teacher since the 1970's, including social justice programs in his hometown of Cleveland, Ohio, tenants' rights and inner-city housing in Chicago and equity in education in Madison, Wisconsin. Pete is a mathematics teacher and member of the Diversity Task Force at North Country Community College. In addition to traditional college courses, he teaches for the college's Second Chance program in Federal and State correctional institutions. Pete is an avid writer, lecturer and Adirondack history buff whose articles appear regularly in regional publications. He also co-founded Adirondack Wilderness Advocates, which is dedicated to protecting and preserving the wild heritage of the Adirondack Park.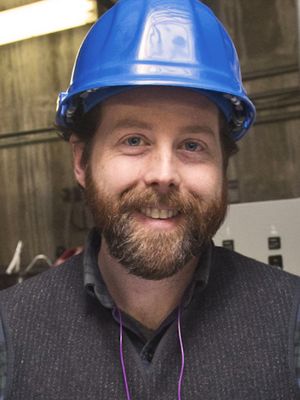 Emmett Smith co-founded Northern Power & Light in 2018 to connect his family's hydroelectric plant, Azure Mountain Power in St. Regis Falls, directly to local customers using New York's Community Distributed Generation program. NP&L now works with independent hydro generators throughout the region, provide local homes and businesses with a truly Adirondack renewable power option. He is also an advocate for healthy river systems, and for run-of-river hydroelectric power as a renewable energy source in several proceedings before the NY-PSC. Emmett earned a Master of Energy Regulation and Law from Vermont Law School and holds a BA in Ethics and International Relations from Hampshire College. Emmett is a resident of Saranac Lake and splits his off hours between ceramics, kinetic sculpture, and boating.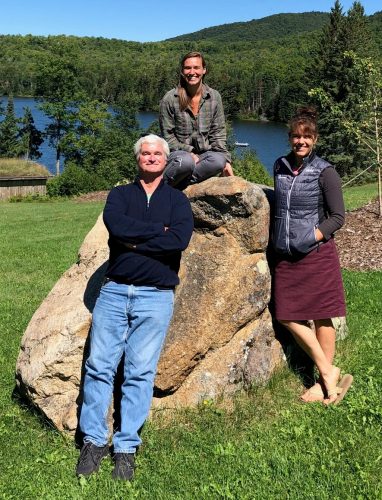 Compost for Good, a community scale organics recycling partnership between ANCA and AdkAction, consists of John Culpepper, Jennifer Perry and Katie Culpepper. The CfG team supports community scale composting in the North Country and beyond to"Reimagine Waste." Our vision is a world in which humans positively impact the Earth and its communities by valuing organic waste as a resource. We support communities to adopt economically viable and ecologically resilient composting systems and processes through education, outreach, technical support, peer to peer connections, and research. John, Katie and Jen collectively possess decades of experience in classrooms, farm fields and compost piles and through their passions are sparking a composting revolution in the North Country.
Meeting attendees will also hear from ANCA's staff and board: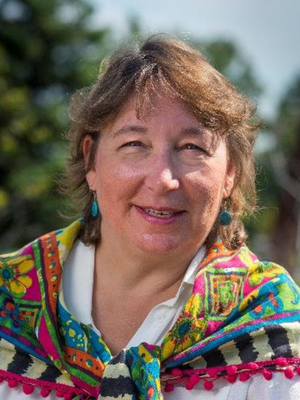 • Elizabeth Cooper: ANCA Executive Director
• Kelly Chezum: Board Vice President
• Dani Delaini: Entrepreneurial Economy Program Director
• Adam Dewbury: Local Food System Program Director
• Erin Griffin: Energy Circuit Rider
• Nicky Hylton-Patterson: Adirondack Diversity Initiative Director
• Stephanie Ratcliffe: Board Member and Wild Center Executive Director (pictured)
• Jim Sonneborn: Board President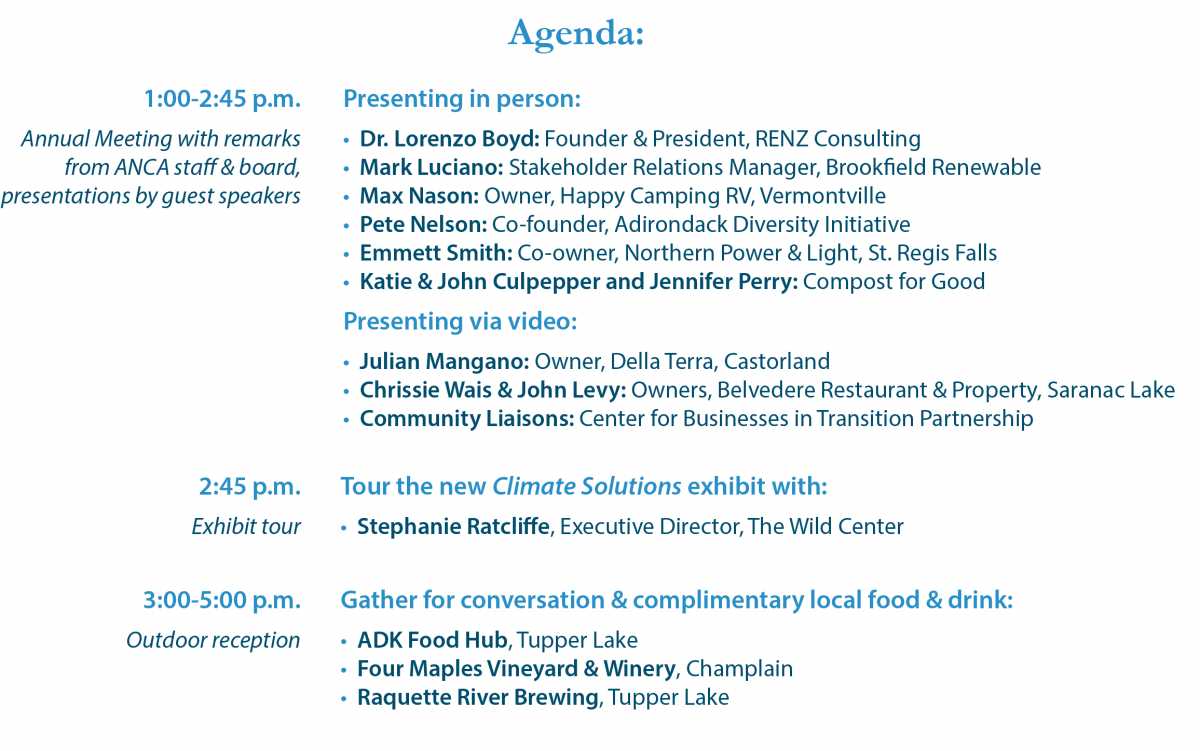 Photo of The Wild Center by Rick Godin/The Wild Center